Market Match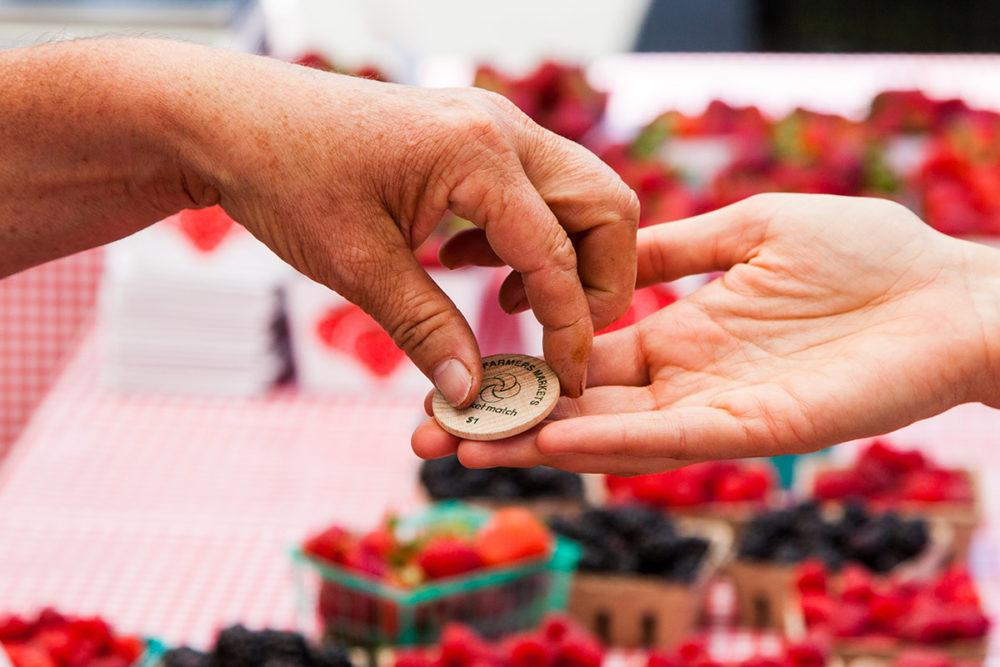 Double Your CalFresh EBT Benefits at the Farmers Market with Market Match
As of February 1, 2023, the Market Match maximum is $10 per market day at Foodwise farmers markets.
Customers who spend their CalFresh EBT benefits (also known as SNAP or food stamps) at Foodwise farmers markets can double their food dollars. The Market Match program helps make farm-fresh, locally grown foods more affordable by matching CalFresh benefits dollar-for-dollar, up to $10, with tokens that can be redeemed for fruits and vegetables at any farm in our farmers markets.
Market Match is currently offered at Foodwise's Ferry Plaza Farmers Market in San Francisco (Saturday, Tuesday, Thursday) and Mission Community Market in San Francisco (Thursday). Visit the Foodwise Info Booth to learn more and use your EBT card.
What is Market Match?
Market Match is a nutrition incentive program offered at 130 farmers markets across the state. Market Match doubles customers' buying power at participating markets by matching CalFresh EBT benefits, known federally as the Supplemental Nutrition Assistance Program (SNAP). Market Match helps low-income shoppers purchase locally grown fruits and vegetables, while supporting local farms.
How does Market Match work?
When you use your CalFresh EBT card at the Foodwise Info Booth in exchange for EBT market tokens (scrip), you can receive an equal amount in Market Match tokens for free (up to $10 per person per day). Market Match is good only for fruits and vegetables.
Here's how to get twice as much healthy food at the farmers market:
Go to the farmers market info booth
Use your EBT card and have your CalFresh benefits doubled*
Get fresh, locally grown fruits and vegetables for free
CalFresh benefits are matched dollar-for-dollar, up to a maximum of $10 per family per market day. Market Match tokens can be spent on any fresh fruits or vegetables in the farmers market.
How does Market Match support food access for low-income families?
Market Match makes fresh produce affordable to low-income families. Fruit and vegetables are an essential part of a healthy diet, but they cost more per calorie than most processed foods, so families on a tight food budget are often unable to afford enough for optimum health. Market Match makes food stamp dollars go farther, and it also helps level the playing field by making local and sustainable produce more accessible to people with limited income. The very existence of the Market Match program says to low-income shoppers, "This farmers market is for you."
How does Market Match support small family farms?
Market Match helps California farmers by bringing more customers and more food dollars to farmers markets. In a 2013 national evaluation, 93% of Market Match customers reported that the incentive was what drew them to the market to spend their SNAP benefits. 69% of farmers surveyed at participating markets reported that they have new shoppers. 66% reported they earned more income. 28% even reported diversifying their production as a result of the Market Match program. Market Match is contributing to the economic viability of our state's small- and mid-sized farms and our rural communities.
What is the history of Market Match, and how is it funded?
Market Match was founded in 2009 by Roots of Change to help California's low-income communities gain access to healthy food to and support local farmers. Since 2012, the program has been led by the Ecology Center. Foodwise began offering the program in 2015. Market Match is now funded statewide through a grant from the USDA's Food Insecurity Nutrition Incentive program, established in the 2014 Farm Bill. To learn more, visit marketmatch.org or find a statewide map of farmers markets offering Market Match here.
How can I support food access at Foodwise farmers markets?
While Market Match is funded in part by the USDA, participating markets are required to provide matching funds in order to receive the federal grant money. Foodwise is grateful to the generous donors who are making this possible. You can support food access for families in your community with a donation to Foodwise today.