Black Chefs & Wine Makers Talk
Saturday, June 10, 2023, 12:00 pm - 1:00 pm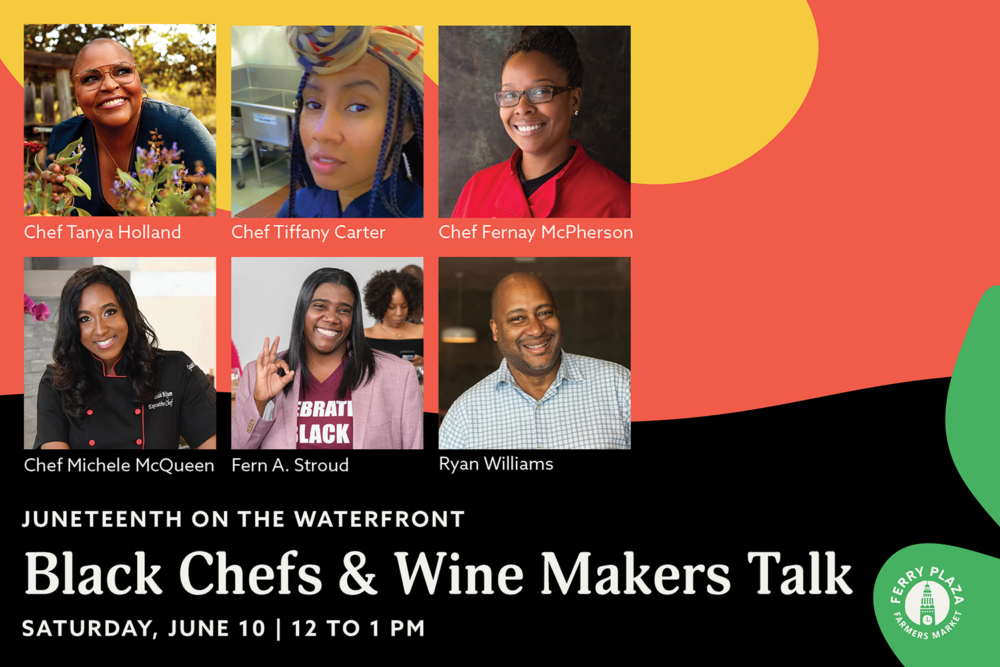 Join Black restaurateurs and sommeliers for a Juneteenth-themed discussion about Black farmers and the Black food migration to California. This free talk is part of a day of celebration at Juneteenth on the Waterfront on June 10, 2023. Speakers include:
This event is free and takes place at the Foodwise Classroom tent in front of the Ferry Building. Limited seating will be available (first come, first served) with standing room around the periphery.
Following the conversation, join Tanya Holland at 1:00 pm for meet & greet book signing of her latest cookbook California Soul at Book Passage inside the Ferry Building Marketplace.
About the Speakers
Tanya Holland is the host of Tanya's Kitchen Table on the Oprah Winfrey Network and the podcast Tanya's Table. She is the author of Tanya Holland's California Soul, Brown Sugar Kitchen, and New Soul Cooking, was the host and soul food expert on the television series Melting Pot, and competed on the fifteenth season of Top Chef. She holds a Grande Diplôme from La Varenne Ecole de Cuisine, and is a Trustee of James Beard Foundation and Chair of Awards Committee.
Known for her ability to make soul food taste like your Southern Grandmother made it, Michele McQueen shares these time-honored traditions along with some new cultural fusions at Town Fare inside the Oakland Museum. Famous for her amazing Southern fried chicken and sweet potato waffles with homemade syrup in San Francisco at Gussie's Chicken and Waffles, Michele gained the love of locals and celebrities alike. Her food is loved by everyone from Stephen and Ayesha Curry to Mayor London Breed. She was a featured guest on Grill It with Bobby Flay and a contestant on Guy's Grocery Games. She has shared her expertise on many live stages across the Bay Area and is truly committed to the community.
Fern A. Stroud, a gifted musician and tenure of IT Program Management, her life work is to bridge the gap between business, art, and community. This vision has been realized through successful partnership, board service, and other initiatives including production of Black Vines – A Toast to Black Wineries and Diverse Art. Stroud earned a B.S. in Computer Information Systems and completed a software development internship at National Aeronautics and Space Administration (NASA) in Palo Alto, California — creating a career in tech as a technical Project/Program Manager. In 2020 Stroud took the leap into full-time entrepreneurship, devoting her time to her company, Stroud Management Enterprise, Inc. She works to continue bridging gaps and building community along the way.
Ryan Williams is a hospitality veteran. He began his career with his own catering business, Williams & Wynn beginning in April of 2003. He went on to enroll in the wine program at Professional Culinary Institute in January 2007 led by Master Sommelier David Glancy. He completed the course in March of 2007 as a Certified Sommelier through Court of Masters Sommeliers. Ryan began a position of Assistant Wine Director in December 2007 at Ana Mandara Restaurant, San Francisco, CA transitioning to Wine Director in June of 2008 until it's closing in November of 2011. Ryan was the Assistant General Manager/ Wine Director of Dixie Restaurant in the Presido in San Francisco, CA from May of 2013 through October 2013. Ryan arrived at HALL Wines, Napa, CA as a wine educator in October 2013. He also served as the winery sommelier and trade host. He moved into Visitor Center Manager in 2015. Ryan currently is the California District Manager with wholesale for HALL/ WALT/ and BACA wines.
Chef Tiffany Carter, a San Francisco native, brings back your favorite bodega with the bounty of fresh California produce on a Dutch Crunch roll. At Boug Cali at the La Cocina Municipal Marketplace, Chef Tiffany Carter, a San Francisco native, offers specialties, like gumbo, smoked sausage and po-boys, and jerk tacos — interpretations on the dishes she grew up eating with her family and friends in her Bayview neighborhood.
Fernay McPherson grew up steeped in soul. Using traditional family recipes, Minnie Bell's menu offers up delicious home-style food, combining soulful flavors and warmth of the south. Fernay learned to cook from her great aunt Minnie and late grandmother Lillie Bell. Fernay's family arrived in San Francisco during the Great Migration as part of the relocation of more than 6 million African Americans from the rural South to cities in the North and West. They left in search of better lives and their culinary spirit travelled right along with them.